Start: 22:30 | add to Cal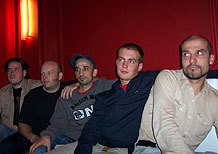 Back in The Days - Funky Oldschool Fasching

Das heißt: holt die alten Superstars, B-Boyanzüge, Dicken Brillen, Namebelts, Truckercaps, ZULUanhänger, Netzhemden, Kangol-Hüte, braunen Lederjacken, alles mit 3 Streifen ... und, und, und aus`m Schrank, verkleidet euch wie vor 20 Jahren und Party on and on and on ...sagt allen Breakdancern Bescheid, it`s time 2 dance! Die Leipziger L.E. Alive laden ein.

All Nite long!

Wer sich im http://www.starsforsoul.de Newsletter einträgt – Free Entry!