up: Reggaefloor:

CULCHA CANDELA

(Berlin) FIRESOUND (Dresden) ROTZLöFFEL´S HIFI (Leipzig)

down: Junglefloor:

DERRICK & BASE (Ulan Bator)


Start: 22:30 | add to Cal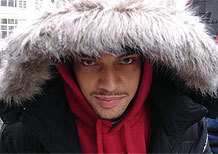 " The roof is, the roof is, the roof is on fire "

Unter diesem Motto wird am 28.11.2003 in der Distillery zu Leipzig das fuenfjaehrige Bestehen des Rotzloeffel Hifi Soundsystems gefeiert. Als Live Act werden Culcha Candela aus Berlin erwartet. Diese Formation aus Hip Hop, Ragga und Salsa ist, ohne Zweifel das fresheste was die Haupstadt derzeit zu bieten hat. Don`t you miss it! It`s all about unity and righteousness nowadays!

Das Rahmenprogramm auf dem Reggaefloor bilden Firesound aus Dresden, eines der talentiertesten Upcoming Sound Systems nowadays, und natuerlich Rotzloeffels Hifi in altbewaehrter "Dancehall crazy"- Manier. Fuer die Freunde von Jungle - Music und Drum `n`Bass sorgen downstairs Derrick und Base fuer Unterhaltung. Praesentiert wird die Sause vom Ulan Bator Mob und Rotzloeffel`s Hifi Promotion.